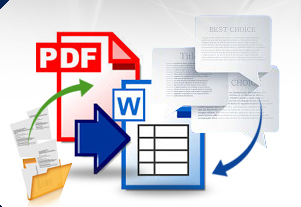 What is OCR? It's the process of converting printed text into another format, like Unicode or ASCII. It's a sensitive process, and in the hands of a non-expert, you can end up with data that is either inaccurate or even unusable.
SFBay Data Entry provides OCR Cleanup Services, with in-depth business expertise, Innovative methods, and reliability that makes your business gain a competitive advantage, letting you focus on your core business activities.
At SFBay Data Entry, we know that just providing OCR clean up services isn't enough. There can be errors – in fact, they're pretty much inherent in any OCR service. That's why we use the latest OCR software, and guarantee 99.95% accuracy. We compare your original documents, and check for misread characters. Then we do OCR cleanup service – a function that's absolutely essential if you're using technical data, tables and footnotes.
SFBayDataEntry, OCR Clean Up Services Include:
Cleanup of your OCR output by our trained technicians
The latest high-speed scanning equipment
Cost-effective service
The format you select
In short, you can rely on SFBay Data Entry for the most accurate OCR clean up services available anywhere, at any price.
For more information on OCR clean up services, contact us at info@SFBayDataEntry.com.