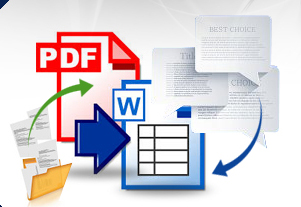 What is Full Text OCR Conversion Services?
OCR stands for Optical Character Recognition. This may sound complex, but simply refers to software that recognizes characters (letters, numbers, symbols, etc.) within scanned documents.
When you scan a document, perhaps a printed book, a pamphlet, a notebook or any other content, the resulting file is an image. OCR conversion software is needed in order to convert the image into a readable and searchable text file, typically in ASCII or Unicode formats.
Getting Highly Accurate Results through OCR Clean Up
Even the most advanced conversion software will have difficulty converting documents into readable electronic files. Mistakes will happen, especially if you are scanning something like an old newspaper where the text is not as crisp or defined.
This is why SFBay Data Entry provides professional Full Text OCR conversion services as well as clean up services. The clean up process entails a detailed comparison of the original and the scanned documents in order to identify and fix possible errors. A trained technician combs through the errors, making the necessary corrections, completing the OCR clean up. We are proud of our accuracy, which is 99% for most of the conversions.
The end result is an electronic document that is incredibly accurate, and that allows for users to search for specific keywords and phrases. These professional solutions are necessary if you want to be able to quickly locate specific data within scanned documents.
Contact SFBay Data Entry for Reliable Full Text OCR Conversion Services;
The Right Equipment – The average scanning equipment will not be able to support Full Text OCR conversion and clean up. SFBay Data Entry utilizes the most advanced technologies, including high resolution scanners, which can produce the detailed images necessary to support the most effective OCR software.
Talented Operators – Having the best OCR software will be of little benefit if you do not have operators that know how to use it. There is a manual element to OCR clean up, and our team members have the experience and training necessary to efficiently produce accurate document.
To receive a no-obligation, free estimate for Full Text OCR conversion and cleanup services from SFBay Data Entry, call 855.722.6669.