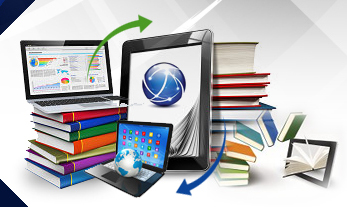 There are multitudes of reasons for Book Scanning. You may have reference books or school book, Manuals etc that need to be carried around with you on a regular basis. You could choose to have these books scanned and made into readable and searchable format either on your laptop or desktop or perhaps you want them accessible via your Kindle, Nook, iPad, etc.
The advantages are numerous. You would not need to carry those heavy books to class or jobs. You could search for words or phrases inside your books giving you instant access to information without trying to find it using the books index. Save Space!
If you own material in book or pamphlet form you may wish to share it with customers or others or perhaps you would like to preserve an out-of-print book.
Why Book Scanning & OCR Services are significant?
In a bid to revive and protect books from decay and destruction most owners are in the process of converting their manuals and other books into the digital e-book from its hard copy status. Though scanning a book is a simple process, scanning huge volumes can be quite daunting. The need for book scanning can arise in the case of old history books and documents, books that are outdated or out of print, technical and medical records, manuals and books, council and legal documents and books and any other printed materials that is on the verge of extinction can be revived by our experts in the field.
OCR or Optical Character Recognition is a process of making the document text readable or searchable. We do this by converting the text or image into the ASCII or the Unicode to make it readable. Our OCR clean up services is an extension of our complete OCR services as it is understood that errors are a high possibility in any data conversion process. Formatting of data and Comparison of documents with the original after the clean-up is also done as part of the OCR Services offered.
Why SFBay Data Entry?
Apart from having been enriched by the experience of a highly qualified team of professionals in the field of data entry, book scanning and full text OCR scanning service, we also are known for a few other qualities that make SFBayDataEntry proud. Please contact us at (855) 722-6669 (or) info@sfbaydataentry.com