Electronic Medical Record Scanning (EMR)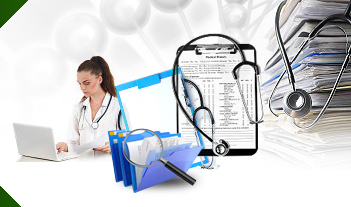 We have a history of converting patient and medical charts to Electronic Medical Records (EMR) and Electronic Health Records (EHR).  The benefits of this process are that records can then be accessed online by doctors, hospitals, and medical offices.  Files no longer need to be physically found, photocopied, or faxed.  The process is streamlined, saving time and fostering greater efficiency.  More and more offices are pursuing digital document conversion for these reasons.
The process for scanning patient and medical charts is well-established at SFBay Data Entry Scanning Services.  Staff will prepare your paper your documents for scanning by ensure all pages are scanned perfectly and no imperfections, such as rips or ragged edges remain.  This guarantees that the documents are preserved in their most pristine form.  Then the patient medical records are scanned and are converted to digital files.  Finally, the digital files are saved in our database or on the clients chosen server, for easy and safe access.
Through this conversion of medical charts and patient records, a seamless transition to EMR we work with EMR provider of your choice to understand all the indexing requirements and then ensure your scanned documents are ready for the EMR of your choice. We will work with any EMR company that the you choose.
SFBay Data Entry Scanning Services can also convert any and all Personal Health Records (PHR) from paper copies to digital medical records. The PHR may include Lab Results, Prescriptions, Billing or Insurance Company correspondence and information, Imaging Results (X-Rays, CT Scans, or MRIs), and Physician notes.  Patient record scanning will organize this information in a secure database, making it easy to access and easy to comprehend.  After the patient charts have been scanned, We will either send the client a disk or upload directly to their PHR account.
Personal Health Records (PHR) Scanning
For clients with an online or locally maintained Personal Health Record (PHR) we can convert any and all of your paper files you may have. These may include:
Lab Results
Prescriptions
Billing or Insurance Company Correspondence
Imaging Results (X-rays, CT scans, MRI, etc)
Physician Notes
We can scan all your paper work and either send you a disk or upload it directly to your PHR account. No matter if you have a Google Health, WebMD account or any another PHR account — we want to help you keep all your paper medical files organized and in one place.
For pricing on Medical Records Scanning and the following services, please Contact Us for a free estimate or Call us Toll Free at (855) 722-6669.[/vc_column_text][/vc_column][/vc_row]