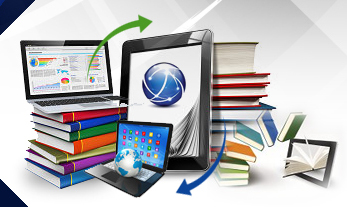 Do you need to have data created to e-book format? It's a given that e-books are taking the publishing world by storm, and why not? E-books are easily created and cheaply distributed. Think about how e-reading has revolutionized the way we experience books – a library used to take up an entire room. Now, a thousand books can be stored on a single device, and even more on a memory card. Reference materials, textbooks, even your favorite romances can be stored on a device that you can fit in a pocket or a purse. You can switch between devices and books quickly and easily, and even search out text or change the font size – all things that aren't possible with printed books. And those are just the benefits to the reader!
An eBook Creation service is a widely demanding service due to its various advantages.
Authors
Book authors now have more control over their work than ever before – when you take paper and ink out of the equation, books can be delivered to readers so much more cost-effectively, and that means that more people are reading.
Business Applications
It just gets better – businesses now can save on storage and retrieval of their valuable documents. Information can be retrieved with just a mouse click or the push of a button. You no longer need to sort and file, so why wouldn't you want to have your documents converted to e-book format?
Of course, you could do the job on your own. With modern technology, it's easy. But realistically, if you're trying to convert a document of, say, a hundred pages to e-book format, you have to assign a person to complete the job, and that's time taken away from other tasks.
SFBayDataEntry's ebook creation services offer quick, easy e-book conversion. All you have to do is give us your work, and one of our highly trained e-book creators will convert it to the format you desire. The most common type of e-book conversion is PDF – it's easily supported on virtually any device. Our people have the training and the capability to handle the job quickly – you don't have to learn how to use converters. We'll do in minutes what might take you hours, and you'll reap the benefits in terms of time freed up for other tasks.
Send Your Data to SFBayDataEntry for eBook Creation Service
Give us your hand-written information, your PDF files, or your Word documents. You can get rid of all your paper documents, reduce clutter, and have easy-to-use, searchable files in no time. We'll analyze your requirements, let you know how long it's going to take, and provide you with a quote. It couldn't be easier.
SFBayDataEntry is one of the leading ebook creation services provider.
For more information on ebook creation services, contact us at info@SFBayDataEntry.com.