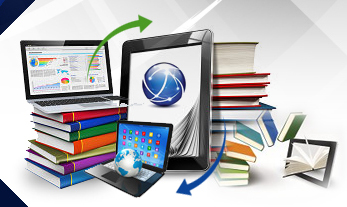 Authors and publishers are creative individuals, good at creating content, and busy in writing and publishing books, and not always proficient in eBook creation and optimization. With so many formats and multitude of devices available, knowing what to do and how to do it becomes even harder. At SF Bay Data Entry, we specialize in handling the eBook conversion services, from hard copy books, including design process for you so that you can focus on what you do best.
Our eBook conversion process is simple:
Mail us a physical copy of the book or files in any other format.
Tell us what you want to be done.
We provide a quote, you approve the quote.
We provide a quick small sample, get your approval again.
We provide final files, you review, request updates and approve them.
SF Bay Data Entry professionals offers the eBook Conversion services for various format such as ePub for (iPad, iPad Mini, iPhone, Adobe Digital Edition), Kindle(Kindle for PC, Kindle Fire devices), Nook, Kobo and Sony Reader Supported Formats, at affordable prices and unmatched quality and accuracy. We can convert any kind of book format into digital formats. We can take physical books, MS Word, PDF, HTML, Adobe InDesign and other computer-generated material into the Kindle eBook format. Also in case of paper print formats, scanned copies, plain text matter, and others, we can deliver the same quality maintaining the complete accuracy in converting your book into the Kindle format.
We have huge experience in the Kindle Conversion Services. We have worked for several authors, copyright owners and publishers to convert their books and copyright materials into eBooks. All you need to do is to contact us with the details of the present book format and the copyright protection information. No matter the volume of the book material or other problems, we are always there to extend full support and cooperation. We also provide conversion services for Fixed-layout KF8 format for Amazon Kindle, Kindle Fire Devices, Android Devices
For more information please contact us at (855) 722-6669 (or) email us at info@sfbaydataentry.com