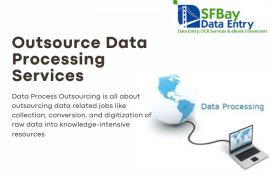 The most challenging task in data processing is the nature of the data which is always changing. With the evolution of technology, data management methods have changed. Sometimes it is an object-based database, object-oriented database but as we move forward ,we are highly relying on the mined data (meaningful data) developed using AI and NLP tools. This helps us to do predictive analysis to make better business decisions.
With the growing demand to process data in a more refined way, the government and other organizations have started outsourcing data entry and processing tasks. Moreover, online data processing is prevalent. The outsourcing process emphasizes using cloud-based services with a web-enabled interface.
At the same time, the security and privacy remain the primary concerns of the company. The data processing services are provided by the agencies that maintain a setup from scratch to high-end data storage and maintenance tools. However, data processing remains tedious and critical even after outsourcing. So, it's important to hire a data processing agency that has visualized the "big picture" of the storage and extraction of information.
Here we would like to throw light on the internal requirements for building a solid foundation to deliver the best data processing services.
What is a Data Processing Service?
Data Processing Services is concerned with the extraction of relevant information from various sources such as excel sheets, forms data, scan documents, images, etc. As a result, a meaningful form of information using a database is prepared which can be further processed as per the usage.
Data processing involves:
Validation of data sets
Managing storage, collection, transformation, and organization of data
Preparing data for data mining and other AI applications
The main purpose to process unstructured data is to have structured data that is precise, accurate, and ready to use. To do so, you need to approach the agencies having qualified data processing specialists efficiently to use recent processing tools.
How should companies prepare their data? What is the expectation from outsourcing data processing tasks? How to hire an agency providing cost-effective solutions? To achieve realistic targets, organizations must get the answers to these questions before hiring a Data Entry Outsourcing Company.
What is Data Processing Outsourcing?
Outsourcing is all about getting data-related jobs like collection, conversion, and digitization done by a third-party agency. The agencies collect the data, convert raw data into knowledge-intensive resources. The organizations don't have the expertise and resources to deal with sensitive data. Moreover, having an in-house data processing task is costlier than outsourcing.
Hence, you can devote your resources to making business decisions and focus on core tasks. Data Processing is an essential that can be outsourced. The outsourcing companies do various tasks such as data entry, order processing, form processing, a compilation of mailing lists, and processing of different organizational and business information.
You can outsource processing tasks on a contract concerning an individual project or can outsource all data-related tasks to an agency depending on the requirements.
The Data entry services we offer such as Legal Data Entry, Clinical Data Entry, Banking Data Entry, Accounting Data Entry, Financial Data Entry, Image Data Entry Services, Data Entry of Business Surveys, and so on.
Types of Data Processing
As all of us are aware that organizations receive data from the outside world in different forms. The types of data processing allow dealing with them differently.
Forms Processing
There are several types of forms like feedback forms, admission forms, request forms, consent forms, job forms, government forms(voting, identification ,etc.). One common thing is that all of them collect data in tabular form. This data is processed as per the customized service. So, you can choose the company that fulfills your uniqueness at an industry-best price. Also, you can process information by providing an online service.
Image Processing
Image processing is done by analyzing the nature of the information it contains. For example, the image of a map or drawing is different from the image of a bank cheque or book. So, the processing method is selected as per the images. The images are easily converted into digital formats like PDF, GIF, etc. Also, using OCR technology, the data is easily extracted from the images.
Government Claim Processing
There are different types of claims for which we fill the online forms. The data contained in the forms needs proper attention and accurate processing. The sensitivity involved in the data requires the privacy of each form. The form might involve financial information such as insurance claim forms, property forms, medical reimbursement forms, and so on.
Credit Cards Processing
When you outsource your credit card processing services, it becomes convenient to dedicate your resources to improve your overall business performance. With the advancement of technology, you can process the information and prepare a fresh database of customers.
Transaction Processing
Today, the retail business is flourishing and online payments are received. There is a provision to fill the customer forms. Various types of forms like customer login forms, payment-related forms, feedback forms, and so on. Confidentiality is maintained while processing this data. An expertise agency only can provide a secure solution.
How Much You Can Rely on Third-party Service?
Online data processing services assist companies to conform to their customer's expectations while at the same time maintaining profitability. The agencies claim to provide end-to-end online data processing solutions such as data entry, data indexing for easy retrieval, data conversion, and analysis to gather tactical insights. They say that we extract and process data to a level that organizations can take major business decisions based on it.
There are some leading agencies like eRecordsUSA that maintain high accuracy, security, and confidentiality of the data. But we can not ignore the fact that as the demand to process data at a higher level is raised, the cost also rises. The second challenge in front of data management service providers is setting up the infrastructure and having trained manpower.
For example, the cost of high-tech scanners, cloud setup, digitizing equipment, is difficult to maintain by the small companies. In the same reference, the salaries of skilled technicians go in thousand dollars. If an agency is not able to manage all these issues efficiently, the quality of service declines. In such conditions, it becomes risky to take the services from these agencies.
All these challenges urge the need to look for an agency that provides high-quality data processing despite the challenges.
How to Choose the Best Partner for Data Processing Service?
A high–quality data processing service can render a plethora of advantages for government and private organizations. They pave the way for effective information collection and safeguarding data from damage or loss. Hire an agency offering online data processing services that can meet the expectations of the organizations by handling their large-scale processing demands.
We at eRecords USA offer bespoke cost-effective data processing solutions for every industry vertical to improve their productivity and decision-making power. We look for the unique needs of the organization to reduce operational costs and deliver the best service. We are associated with our long-time clients with an enviable record of repeat business.
Listed as a reliable data processing firm, we take pride in delivering our data entry and management services with utmost accuracy and stringent security. We have a cloud-based setup to utilize File Transfer Protocol (FTP) or Virtual Private Network (VPN) ensuring that there is no data hosted locally on our systems.
In a nutshell, you can rely on us for online data processing tasks. We offer best-in-class digital asset management with accuracy and precision.