Newspaper Scanning Services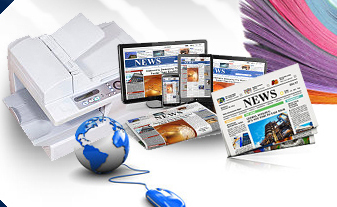 Looking for quality and cost effective newspaper scanning services? Your search ends here! SFBay Data Entry is leading newspaper scanning services provider. SFBay Data Entry has the specialized equipment and a team of professionals with over 10+ years of practice & experience in the newspaper and based here in the SFBay Area, California. We can scan newspapers of any size and condition, bound or loose. Our scanning equipment is gentle and we return the originals as received.
The Advantages of Scanning Newspapers, Documents and Other Paper Formats
There are a number of advantages that this service provides, starting with its relatively low cost and fast turnaround time for placing documents on a CD or DVD format.
Space: When you consider that a single CD holds up to 15,000 images which would normally fill a 4-drawer filing cabinet, you can see just how much room can be created with a scanning service.
Preservation: Thanks to scanning technology, documents will be saved for hundreds of years with no deterioration.
Time: Imagine how long it would take to find a single document among thousands, even if it was properly stored and labeled correctly. Now, finding that document on a CD takes mere seconds simply by typing in and bringing up the file. Searching for information has never been easier.
Multiple Accesses: Files on computers can be copies and recopied instantly if needed and even transferred online so that the files can be readily accessed. For documents that need to be accessed regularly, this is the perfect way to keep them safe, yet have them available when needed almost instantly.
When you consider the costs of scanning newspapers, documents and other files, it pales in comparison to how much it costs to keep, file and find these files in their paper form. This is why more and more businesses/ collectors/ institutions/ colleges and libraries are turning to scanning methods in order to increase their efficiency and bottom line as well.
SFBay Data Entry Offer
 We are a scanning and imaging provider in the San Francisco bay area that offers scanning in large volumes and work that is a part of many different industries. We specialize in scanning both small and large size drawings, newspapers and similar documents.
Our company has built a strong reputation when it comes to the following;
Scan Quality
OCR
Indexing
Fast Turn Around Time
Low Pricing & More
Let us be your one-stop-shop when it comes to scanning newspapers and other small or large documents. Please contact our offices and let our friendly, courteous staff tells you all about our services and answer your questions. We offer free sample scans with no obligation as well!
For more information please contact us at (855) 722-6669 (or) info@sfbaydataentry.com