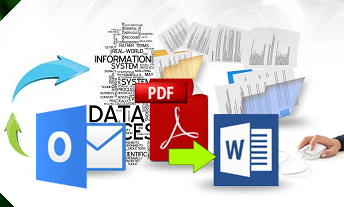 You have important files and email exchanges in your Outlook mail inbox which you need to copy and share, and your client doesn't have Microsoft Outlook installed. When you need to show the email exchanges, the changes you've made and your action plan, the PST Outlook format demands that she have an Outlook account, which is not practical in every scenario, this is especially true for litigation services.
It is precisely for these and for other litigation purposes where all originals outlook mail exchanges need to be shared, that SFBay Data Entry provides world class data conversion services, converting Outlook PST format files into PDF formats. Our trained professionals work hard to ensure that your satisfaction is the highest priority.
Why convert Outlook to PDF formats?
The benefits of converting PST files to the PDF formats are manifold. Here are some of the key benefits you will avail by opting for PST to PDF conversions with SFBay Data Entry.
Portability: While laptops and tablets have made it very easy to take documents from one place to the other, converting PST to PDF files would ensure mobility of documents in the truest sense. PDF files can be simply transferred into USBs, hard disks and CDs and be taken everywhere without being hindered by the bulkiness of a laptop computer.
No changes: The conversion process is conducted while completely preserving all the visual elements of the page in question to be converted. Text, images and graphics remain unchanged, which means that the message you wished to convey through your document remains unchanged.
Elements which are interactive in nature can be added to your document easily: For instance, any word or phrase can be made easily searchable on the PDF document. Additionally, elements such as hyperlinks, mark-ups and notes can all be added to the document without a hitch.
Encryption support is possible: PDF files support high level encryption of data which can be very useful. Another aspect is that the document can be programmed in a way that makes it safe from viruses and other malware.
Compress to save space: PDF files can also be compressed so that you save up on space and allows for storage of more and more documents in limited space. This makes it an efficient and economical format of documentation for any office.
Bate Numbering can be provided to the PDF files, as required by litigation/ law firms.
Why SFBay Data Entry?
We are a leading PST to PDF conversion services provider in the San Francisco Bay area. Our main objective is to ensure that you are a hundred per cent satisfied with our work. We ensure that there is absolute accuracy in our PST to PDF conversion service because we understand the potentiality of risks you might incur at the loss of any information.
For more information please contact us at (855) 722-6669 (or) info@sfbaydataentry.com.