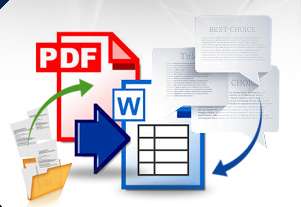 OCR Indexing large volumes of data can be a very important, but tedious, task. You need to be spending your time looking for ways to serve your clients and improve your organization – you don't want to spend hours upon hours on manual data entry and indexing. To solve this problem, you can turn to SFBay Data Entry for our data capture OCR indexing services.
What Does SFBay Data Entry Do?
We are a document scanning company, specializing in data capture OCR services. From our Northern California facility, we provide clients all over the country with accurate, affordable and prompt data scanning and OCR indexing services.
Step One: Your documents are scanned.
There is no type of document that we cannot convert into an electronic image. We even offer large and wide format document scanning solutions. This allows us to provide data capture indexing for information of any type. When your documents are scanned, we will create high-resolution electronic copies that are identical to the originals.
Step Two: Document images are converted.
To complete our data capture services, we must implement optical character recognition (OCR) conversion software to turn your document images into useable text files. This conversion software creates data that can then be indexed quickly and accurately.
Delivering the Flexible and Reliable Data Capture Services You Need
At SFBay Data Entry, we tailor our data OCR indexing services to suit your needs. At the beginning of your project, we will consult with you to learn more about your deadlines, your documents and any special requirements you may have.
We will then design a data capture service package that includes all of the solutions that will provide the greatest value to your unique project. Our team is happy to fulfill any special document scanning, delivery or confidentiality requirements.
To learn more about our data capture OCR indexing services, or to receive a free, no obligation quote, call 855.722.6669 or email at info@SFBayDataEntry.com