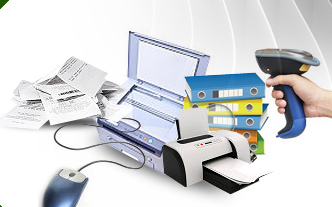 Scanning of Documents has become a necessity due to its various advantages in today's time. Document scanning and digitization is meant for improving staffs efficiency, thereby cost efficiency and results in better customer services. Documents in hard copy format are very difficult to handle, because the cost of storage, archive and retrieval costs are too high.
Scanning of Documents in order to digitize them has become a business on its own. We specialize in scanning of large volume of documents by using high quality, high speed scanners, and have qualified and experienced staff for the preparation and scanning of documents and reducing the total cost of digitization to our clients.
Main Advantages of Bulk Document Scanning Services
Cost saving in storage space : A room full of documents can be scanned and will fit in a few DVDs or in a small hard drive.
Easy document access at many locations at once : Same digital documents can be accessed from many locations at once.
Disaster Management of Business Continuity Plan : Scanned Documents are safer than paper. They can be backed up online or offline and can be re-instated whenever required.
Information Search & Retrieval becomes handy, easy and quick : Information search and retrieval can be done with a few clicks and it is less time consuming than the retrieval of paper documents
Improved Efficiency : Document Management Systems helps in improving efficiency of management and staff by saving their time and energy required in the extensive process of document retrieval. The result is the great improvement in efficiency and more business.
Cost Reduction : Increase in productivity means overall cost reduction and more output. With the help of an efficient document management system, you can cut your administration costs significantly and increase your profits.
Document Scanning Process follows proven document scanning process with strict quality controls in each step of the process described below:
Document preparation for scanning : Our experienced staff will prepare the documents before scanning and follow these steps:
Batch stamping and numbering
Binding removal, staples pins and clips removal
Back-fold folded document corners
Repair damaged documents with transparent tapes
Document Scanning : We have wide range of high-speed scanners to handle any type of documents of any sizes. We have also standard scanning software, which takes cares for quality and performs online image corrections like brightness, image orientation, noise balance etc. We can produce images in any preferred format like PDF, Tiff or Jpg.
Delivery of scanned Images : After proper quality and audit checks, scanned images are delivered through any preferred media like FTP upload, DVD or hard drives.
Document purge or return : After satisfactory feedback, document will be purged if instructed or returned to Customer in the same condition, if required.
Indexing of scanned documents : All scanned document can be indexed manually as per client specification and requirement with 99.99% quality.
For more information on Document Scanning Services, please write to us as info@SFBayDataEntry.com